Depart Date: Oct. 14, 2023
For Pricing and more information, visit the Holiday Vacations website.
Witness the beauty of three distinct Hawaiian Islands as you escape to paradise. Enjoy the perfect balance of scheduled activities and leisure time to find your own adventures with three nights on Oahu, two nights on the Big Island, and three nights on Maui. Highlights include a Honolulu city tour, the USS Arizona Memorial & Visitor Center at Pearl Harbor, a guided tour of Volcanoes National Park, and an authentic luau with Polynesian performances and cuisine, plus all inter-island flights are included!
Day 1 : Fly to Honolulu
The moment we step off the plane we will feel the Aloha spirit that draws so many travelers to this lush island oasis. We are welcomed with a traditional lei greeting before checking in to our Waikiki Beach hotel for a three-night stay.
Day 2 : Pearl Harbor
After a delicious included breakfast, we tour the capital city, beginning with the most moving site on Oahu, Pearl Harbor National Memorial. At the visitor center, we view the galleries and exhibits that recall December 7, 1941, the day that catapulted the U.S. into World War II. A documentary film precedes our Navy launch out to the USS Arizona Memorial to observe the sunken battleship. Afterward, mingle with new friends over a Holiday Vacations Welcome Lunch in Honolulu. The afternoon brings us past the volcanic-shaped Hawaiian State Capitol building and Iolani Palace, home to Hawaii's last reigning monarchs. We then visit the Punchbowl, an extinct volcano and home of the National Memorial Cemetery of the Pacific. Breakfast, Lunch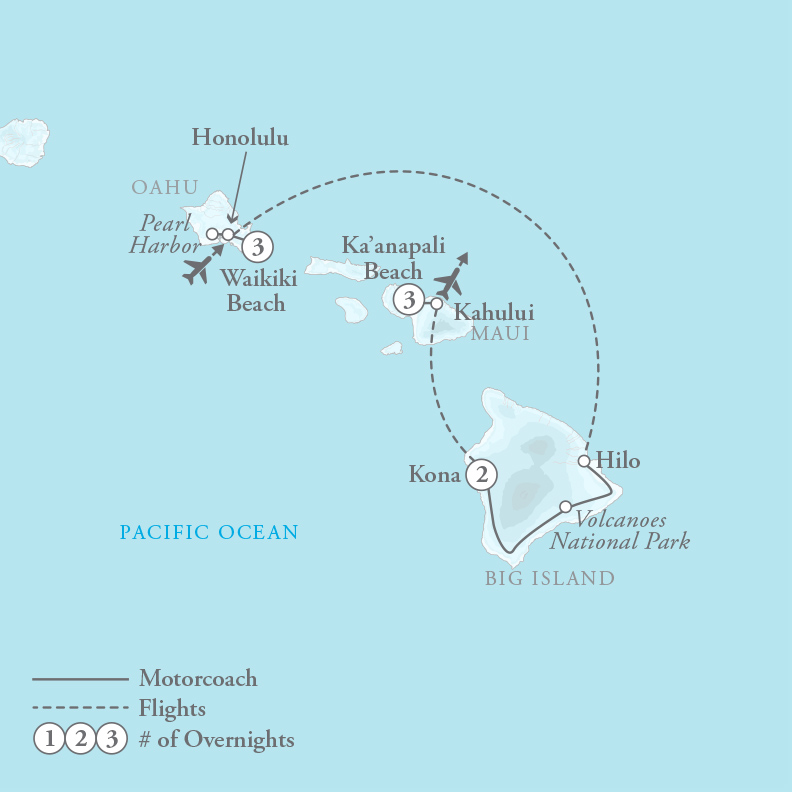 Day 3 : Oahu
Explore the island of Oahu as you please. Relax on heavenly Waikiki Beach, sample the local Hawaiian fare on a food tour, return to Pearl Harbor to tour the USS Missouri Memorial, hike, snorkel, or explore the depths on a submarine adventure. Dinner
Day 4 : Volcanoes National Park
This morning we fly to Hilo on the Big Island of Hawaii. We stop for a delicious lunch just outside Volcanoes National Park. Once inside the park, pause along the way to appreciate the dramatic overlooks and visitor center. The unique landscape of the park features volcanic craters, dried lava flows and steam vents. Afterwards we check in to our Kona hotel for a two-night stay. Lunch
Day 5 : The Big Island
Breakfast is included this morning at our hotel. Explore the Big Island on your own today. Perhaps tour a chocolate farm or the Kona Brewery, swim with manta rays, go flightseeing for an aerial view of the volcanoes, shop and dine in Historic Kailua-Kona Village, or simply relax on your private lanai at the hotel. Breakfast
Day 6 : Maui
This morning we fly to Maui, nicknamed the Valley Isle for the valleys carved into its mountains. Lunch at the Maui Ocean Center offers stunning views of Ma'alaea Bay Harbor. After lunch there is time to explore the campus to view sea turtles, colorful fish, sharks, jellyfish and even touch coral. Learn about the area's largest seasonal visitors and see them in 3D at the Humpbacks of Hawaii experience. Next, we drive to Lahaina, an old whaling port dotted with historical landmarks, shops, and galleries. The town is especially known for its gigantic Banyan tree whose branches span an entire city block! Later, we arrive at our gorgeous hotel located right along Ka'anapali Beach. Lunch
Day 7 : The Valley Isle
Maui is open for exploration today. Tour a working pineapple plantation, travel the winding Road to Hana, visit a chocolate farm, or watch the sunset aboard a dinner cruise. Breakfast
Day 8 : Traditional Luau
Ascend to the top of Haleakala to watch the sunrise this morning or sleep in and enjoy a morning at leisure. A pleasant stroll from the hotel leads to Whalers Village, an inviting area of shops, dining and live entertainment. Tonight, say farewell Hawaiian style at the Drums of the Pacific Luau and Polynesian Show. Enjoy tropical drinks and the exotic flavors of native Hawaiian cuisine. Our evening ends with music, dancing and chants from islands across the South Pacific complete with a thrilling fire knife finale! Dinner
Day 9 : Aloha Hawaii
After a relaxing start, we explore the Maui Tropical Plantation on a narrated tram tour learning about the island's iconic fruits and plants including pineapple, coconut, and more. Later, we gather for a Holiday Vacations farewell dinner before boarding our overnight flight to the mainland. Lunch
Day 10 : Fly Home
A Hui Hou (until we meet again).